Scribol.com by Chris Ingham Brooke
Free Blog Traffic Exchange System Hits 15,000,000 Visitors
Chris Ingham Brooke is a talented young entrepreneur, starting from just 19 he has built one of the most popular online environmental resources from the ground up, EnvironmentalGraffiti.com. His new project, Scribol, has launched with intense success also.
Chris Ingram Brooke: Born 1987
Projects: environmentalgraffiti.com, scribol.com, pixdaus.com
Traffic: Over 18 million unique visitors per month
Specialty: An eye for great content, and getting it seen.
Munchweb had a chance to interview this successful bootstrapping entrepreneur about the successful launch of Scribol, which in a matter of months it hit 30 million page views a month (15 million unique visitors) according to Chris.
Scribol is a mixture of recommendation engine and a traffic exchange system, it was launched in October 2010. Bloggers and online publishers can place a Scribol widget recommending popular content from around the web. Scribol has a strict editorial policy so only great articles are shown.

Publishers using the widget provide their readers with links to great content around the web, and being in the Scribol system, means they get their own content advertised on other high quality sites, helping them reach new eyeballs.
So over to Chris…
Please give me a quick bit of background on how you got started online.
In 2007, at the ripe old age of 19, I started a site called Environmental Graffiti and grew it to be one of the biggest environmental blogs. It was back-breaking work – however, it lay the foundations in terms of connections and experience that allowed me to start Scribol. I still run it and it's still one of my babies.
Scribol's growth has been immense and you've signed up some high traffic partners from the outset. What was the key to your successful growth?
I don't think there has been one magic bullet as such. One area we focus on in everything that we do is quality – from the design and technology of the site, to the caliber of the publishers, we're trying to push the envelope. We're not going after growth per se, we're ensuring everything works at a small scale and then ramping up. We're also working really long hours!
What sort of percent return are your traffic partners getting now?
On average, we're sending publishers 350% back of whatever they send in. So for every click they send us, we send them 3-4 back. We believe we have the highest percentage return in the industry and that's because of our extensive landing page tests, which we're constantly trying to improve upon.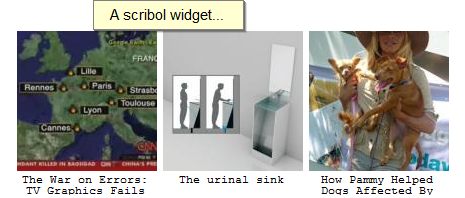 Where did you get the idea and how was the project funded?
Scribol started as a way to leverage all of our properties' traffic. It was a simple idea to exchange audiences and to share great content. We never intended it to become a business in it's own right, but as soon as we had a few large sites signed up with us, it just took off. The business is funded entirely out of cashflow from our other businesses: Environmental Graffiti and Pixdaus.
Traffic exchanges have been around for a long time, but most fail. Why is Scribol different?
Traffic exchanges have indeed been around for a long time and you're right to point out that most fail. However, although we're sometimes guilty of describing Scribol as a traffic exchange, we think of Scribol as an engine that recommends content to the people that want to read it i.e. We're connecting audiences together. Most traffic exchanges work on the premise of the webmaster having to view a number of websites. We work on the premise of sharing awesome content and if people want to click it, they click it.
You main competitor is currently 2Leep, what sets you apart?
I wouldn't really say 2leep or similar services such as MGID are our main competitors. Though at first glance the sites may appear similar, we're really focused on working with high-end publishers. We have sacrificed a short-term burst of scale for quality, because we believe that once you start opening the floodgates and allowing any old publisher to sign up, there's a limit to your growth. We've also strayed away from adding lots of new features because we're mainly trying to improve our algorithms so our content recommendations are the best. In that respect therefore, I'd say our main competitor is something like StumbleUpon.
What's next?
Now that would be telling 😉