Highest Facebook Traffic Times 2017
When to Post & Image Hacks
If you want traffic and sales from Facebook there are really 2 big keys:
Engage Facebook users
Give them a great reason to buy from you or to go to your site.
The hardest part is really engaging them. There are multiple factors involved including the time of day you post, the type of post you make and posting something that appeals tightly to your target market.
In this report I'll reveal some insights that can give you a huge head start in the Facebook engagement and traffic game.
What Days To Post On Facebook…
If you post on Sunday your post is likely to get around 30% higher rate of engagement than a weekday.
Post on Saturday and your post is likely to get around 15% higher rate of engagement than a weekday.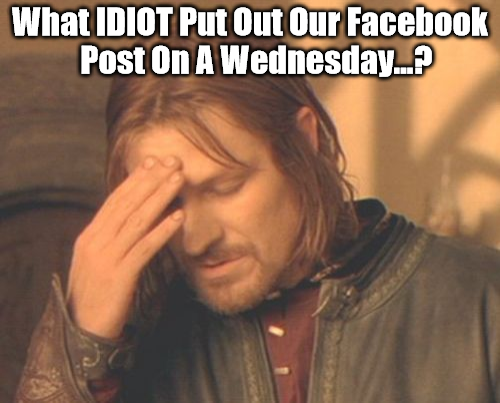 Weekdays all get around the same rates of engagement…a little lower than posting on the weekend.
What Times To Post On Facebook…
This tip might surprise you.
If you're not paying to boost your Facebook post then you're relying on the organic reach of your post for it to be seen.
The people who see it will be drawn from the people who have liked or followed your Facebook page in the past.
Here's where it gets interesting.
You'd think the best time to reach the maximum number of those people is when they're most active on Facebook.
Actually it's the opposite because there's so much activity on Facebook at that time that the competition from other posts massively reduces the organic reach of your post.
The best time to post is most likely to be between 9pm and 11pm in the time zone most of your followers live in.
The difference in engagement can be quite dramatic with one study showing posting in the 9pm to 11pm time zone doubles the number of shares a post is likely to get.
So combining day and time posting on a Sunday between 9pm and 11pm is likely to get you the highest rate of engagement followed by posting on Saturday between 9pm and 11pm.
Remember every niche and audience can be different, so this is something you should test.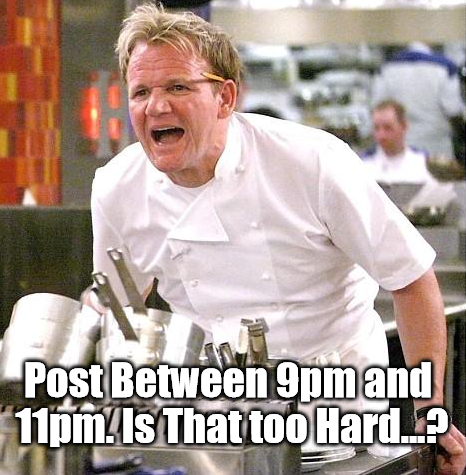 Scheduling Posts In Advance…
Chances are you don't want to be online every Sunday between 9pm and 11pm or any night for that matter.
Fortunately you can schedule multiple Facebook posts in advance.
You do this by making a post on your timeline then instead of clicking on publish, clicking on the little arrow to the right of the publish button.

You'll then get the option of scheduling your post any time you want.
Scheduling posts allows you to set up multiple posts for the future at the same time so you can have a steady stream of cool posts engaging people who like your post.
Keep Your Facebook Posts Short…
Most Facebook users don't like doing a lot of reading there.
Short posts with text under 50 characters long (less than around 10 words long) get the most engagement.
When posts get over 150 characters long (over around 30 words long) they get around half the engagement level so keep your Facebook posts short.
You can always link to more detailed content on your website.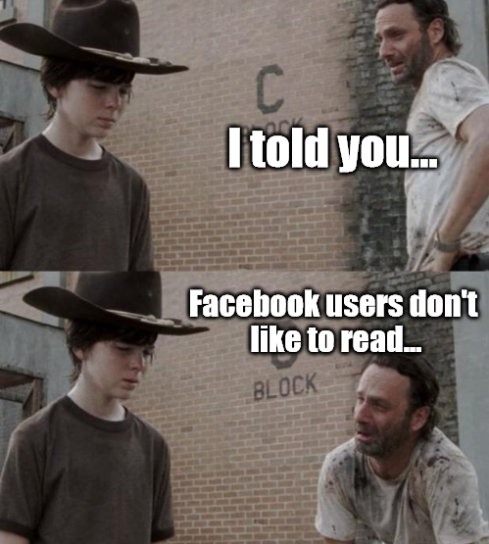 Hashtags Probably Aren't Helping…
Including hashtags in your posts may not be all that helpful.
Posts without hashtags get around 34% more interactions than posts with hashtags.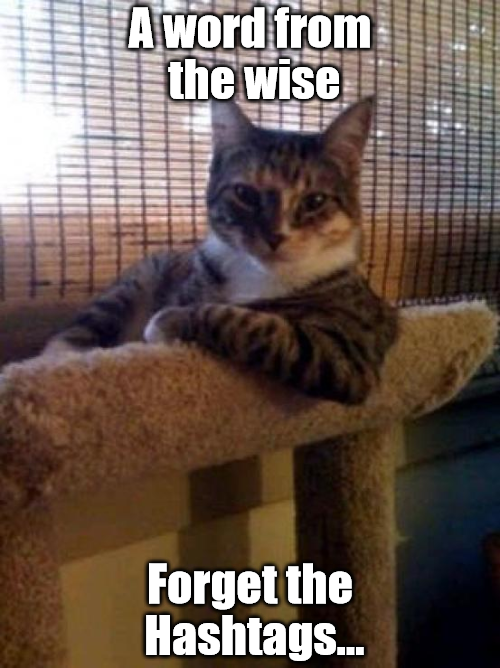 Post A Question With An Image For The Highest Engagement…
A post that includes a question targeted to followers and an image can get 4 times the engagement rate of just a post with a question.
Posts with just questions outperform every other kind of post with images coming a very close second and the combination of the 2 is a clear huge winner.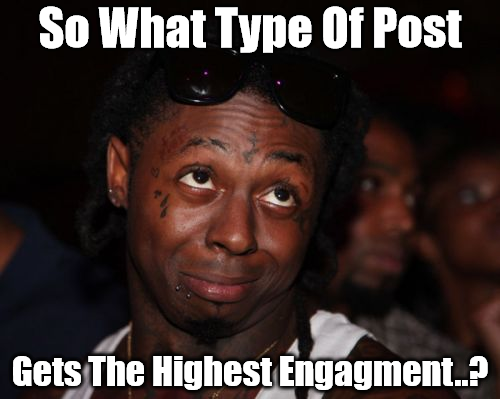 Upload Your Images To Instagram & Post To Facebook Via Instagram…
When you're uploading photos upload them to Instagram and use Instagram's "Post to Facebook" option.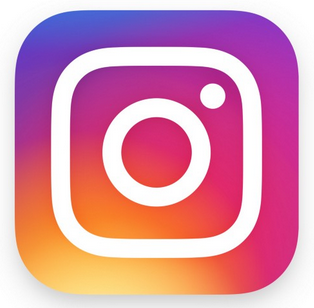 This serves 2 purposes…
First you get double duty from the same photo and short description…engagement from followers, fans and friends on Instagram and Facebook.
Second total interactions on images posted on Facebook via Instagram are around 23% higher.
Inspiration For Creating Your Own Facebook Posts…
Here are a few resources where you'll find highly successful high engagement Facebook posts or viral images…
http://www.shoutmeloud.com/most-viral-photos-on-facebook.html
http://www.worldwideinterweb.com/8355-most-viral-photos-of-all-time-according-to-google/
http://www.cracked.com/photoplasty_761_the-22-most-misleading-viral-photos-explained/
How To Find Or Create Viral Images…
There are sites when you can find or create viral images in a few minutes or a few seconds.
NextHaHa has plenty of them being updated constantly…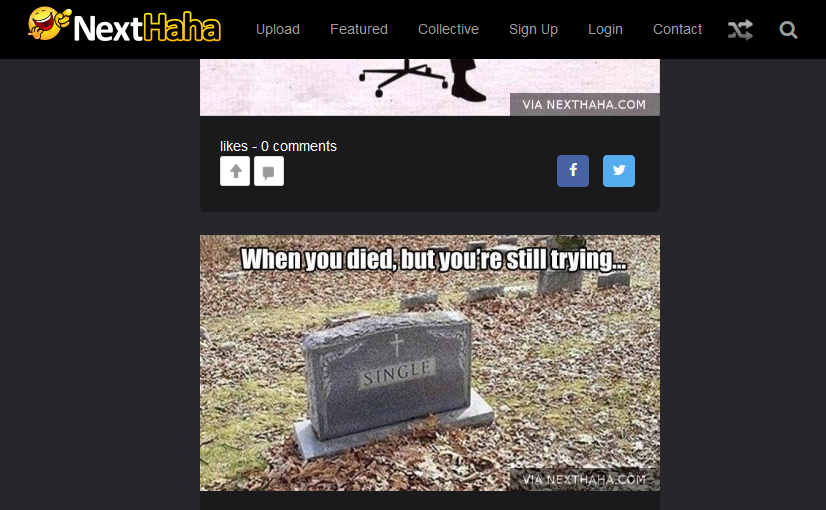 You can put your own captions on highly popular memes at MemeGenerator.net and imgflip.
You can use background images and add your own text at livluvcreate.
Post A Video If You Want The Most Shares…
Different types of posts get different types of intereaction. If you want to get your poast shared more video comes out number one with images close behind.
Combining videos with a question is also a great idea for engagement.
Upload Your Video Directly To Facebook…
It might seem appealing to post the link to a YouTube video but that could be a mistake.
Videos that are uploaded directly to Facebook get over 6 times the engagement level of YouTube videos embedded in your post.

Link To An Article 1,000 To 3,000 Words Long…
If you're linking to content on your website and you want the maximum level of interaction, linking to an article on your site that's 1,000 to 3,000 words long is most likely to get you a higher level of interaction from Facebook users.
The Only Rule Is There Are No Rules…
Every niche and every market is different so it's vital that you be flexible and watch what kind of results you're getting with each post.
Pay attention to the posts you make that get the highest engagement and do more of what's working for you.
What is working for you? Comment below…