Success Built To Last Summary
PDF, Chapters & Review of Jerry Porras, Stewart Emery & Mark Thompson's Book
Success Built to Last: Creating a Life that Matters
Authors: Jerry Porras, Stewart Emery and Mark Thompson
Click Here to Get the PDF Summary of This Book & Many More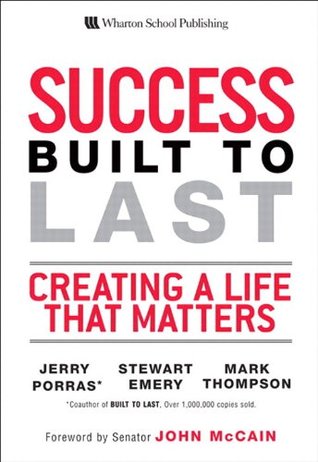 The essential difference with Builders is that they've found something to do that matters to them and are therefore so passionately engaged, they rise above the personality baggage that would otherwise hold them down. Whatever they are doing has so much meaning to them that the cause itself provides charisma and they plug into it as if it was electrical current.
The Big Idea:
Enduringly successful people have created lives that matter through finding meaning, employing a positive and resourceful mindset and having a bias towards action.
Stories
Jack Lalanne was a sickly, depressed and bullied child who tried to commit suicide at age 15. But after discovering the power of exercise, his life changed and the rest is history – selling 200 fitness clubs to Bally's Total Fitness, and multiple world records in swimming, pushups and other fitness activities.
Condeleeza Rice – was a music major who started college at age 15, realized she could be a good pianist but never a virtuoso, and later chose to study international relations, teaching at Stanford when she was in her 20's.
Meaning
Enduringly successful people:
Don't just look for fame, money and power (even though many have them) or get distracted by Bright Shiny Objects
Pursue things that give personal meaning to their lives
Don't try to "balance" their lives in the traditional – their hard work is a result of nearly irrational exuberance
Know that they can have and pursue several intense passions over their lives
Thoughtstyle
Enduringly successful people:
Aren't always extroverted, but can't help but be charismatic about their
Use their many mistakes as opportunities to grow and become better
Find creative ways to overcome and embrace their weaknesses
Use pain to help them find their passion
Actionstyle
Enduringly successful people:
Earn their luck through preparation, hard work and big goals
Create alignment in their teams, relationships, words/actions, and environment
Encourage open conversation and welcome dissent and criticism
When you put together deep knowledge about a subject that intensely matters to you, charisma happens. You gain courage to share your passion, and when you do that, folks follow.
Click Here to Get a Free PDF with 40+ Business & Marketing Book Summaries
This work is licensed under a Creative Commons Attribution-Share Alike 3.0 Unported License.