Set Up Google Plus Authorship
Use AuthorRank for Higher Rankings & Traffic
Google Authorship is a key part of any site's success to rank higher, gain more followers, and get more traffic.  Google is looking to put user identity at the forefront of a number of its products, including search via what it call 'AuthorRank'. If you don't take part, you are going to get left behind.
You can follow me on Google+ here.
Executive Chairman of Google has stated that profile verification will be directly linked to search engine rankings:
"Within search results, information tied to verified online profiles will be ranked higher than content without such verification, which will result in most users naturally clicking on the top (verified) results. The true cost of remaining anonymous, then, might be irrelevance."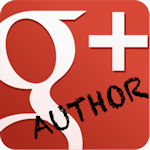 As you know from reading this blog, creating a brand is incredibly valuable for building and strengthening relationships via social media and otherwise.
People have more trust in recommendations from their circle of "friends", including companies they follow on social networks. Google Authorship has made it easier for authors and businesses to get their brands in front of prospective customers and improve ranking — they can now represent themselves alongside their content within Google's search engine results pages (SERP).
Establishing a direct link between you and your articles or posts enables Google to display your picture next to the titles and descriptions of your site's content so you stand out from the crowd.
How to Set Up Google Authorship
Set up a Google+ account
Go to https://plus.google.com and create one. If you have a Gmail account, you can use that profile to get started. Make sure the domain of the email address you use is the same as the domain of the site for which you're creating content — this will help Google connect your Google+ account to that domain.
Google has made it easier to edit all your personal details with a new card-like format for profile information under the "About" tab on your Google+ profile.
Each of these cards now has its own prominently-displayed "Edit" button, so you can easily control who sees what for categories like Work, People, and Places. View your profile as "Yourself" or you won't see the Edit buttons under each section.
Make sure your Google+ profile name matches the byline on the blog posts you want to associate by doing one of two things:
Change your byline on the site you contribute to so it matches your Google+ name, or
Change your name in Google to match your byline:

Go to https://plus.google.com
Click "Profile" (in the left column)
Click on your name in the header
Change your name
Click "Save"
Upload a Google+ profile photo
Make your Google+ profile visible in search
Add the blog to which you contribute to your Google+ page
How to associate your site with Google+
If you have an email address with the same domain as the site you want to associate with Google+:
Is your blog running WordPress?
If so, there are a variety of plugins that will create Google Author tags, including:
Test to make sure Google Authorship is set up correctly
It can take from a few minutes to several weeks for Google to show your picture along with search results, so use Google's Rich Snipit Testing tool to make sure everything is as it should be.
---
About the Author:
Originally published by Pam Dyer at Pamorama under Creative Commons. Her blog helps businesses use social media marketing programs to improve branding, find leads, and increase sales.