8 Ways Neil Patel Captures 100,000+ Email Addresses & Leads On His Quicksprout Blog
Neil Patel has an email list in the hundreds of thousands and he's used it to grow a variety of online businesses, land huge deals, and sell online courses.
Neil started Quick Sprout as a personal blog to record his thoughts and tips on content marketing and openly shared his best strategies and it led to a huge following online.
Over the years, Quick Sprout became a content monster; ranking in the Top 10,000 of the world's sites on Alexa for traffic…
… and reportedly bringing in Patel over a million dollars a year in income.
It sits on every must-read resource for entrepreneurship, marketing, and growth hacking.
Patel is also using the blog to capture email addresses and generate leads for multiple businesses he shares partnerships in.
So In This Article…
We're going to dissect the genius behind Quick Sprout and how it's designed to capture email subscribers and generate leads in the most efficient ways.
1. No BS Homepage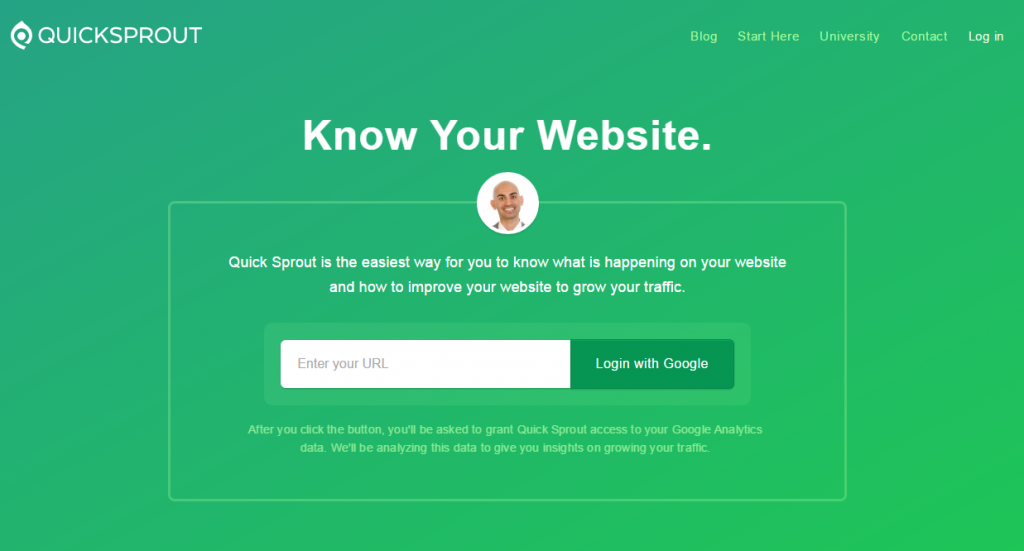 Neil Patel knows who his audience are and isn't shy about utilizing that knowledge to his advantage, right off the bat.
At the same time, he uses his home page to weed out those who probably won't have any use for his services.
The headline "Know Your Website" assumes visitors are website owners and hence, would benefit greatly from his analytics and lead-generation services – makes sense, right?
This is immediately followed by his photo, which adds a human touch.
People prefer it when they know there's a real person behind a service, offer or deal – especially when they're about to share their personal information.
What follows is a quick explanation of what Quick Sprout is, which actually provides ALL the justification needed as to why a visitor should enter their Website's URL and Login with their Google Account for their Google Analytics data to be, well, analyzed.
Visitors provide their website's URL and their email address… and in return Patel gives them a custom report based on the status of their website and how their traffic can be improved.
2. Hold Onto Your Butt, The Blog Is Better!
I've arrived! But wait… oh? What's this? Where's the blog post?!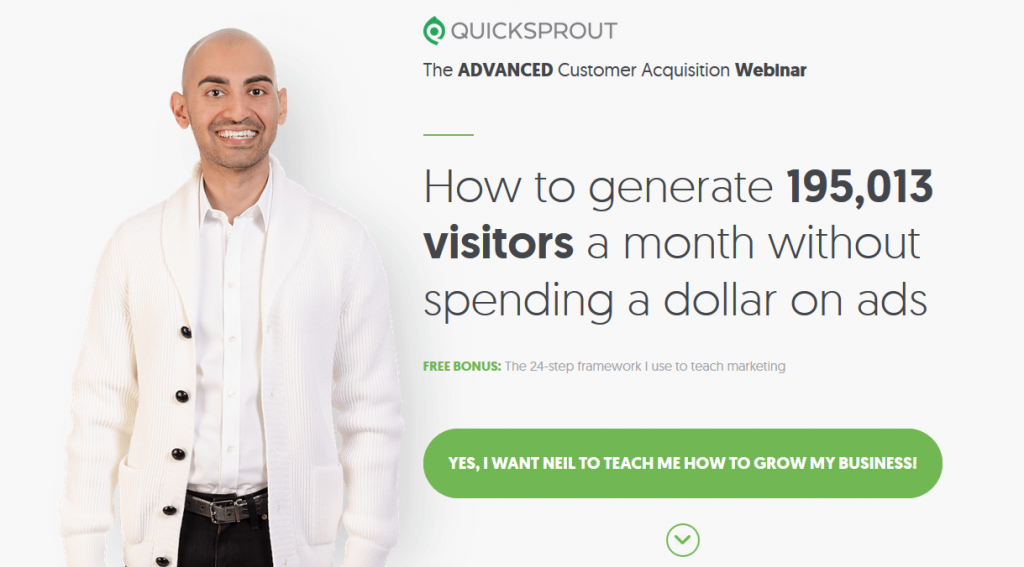 First time visitors of the blog are greeted with this full-screen popup. Clicking on the action button will display another sign up form.
This one, however, is for the webinar which he conducts regularly. This, in itself, is a great Lead Generation tool.
After closing the webinar signup form and the first slide-down popup, the blog page finally appears.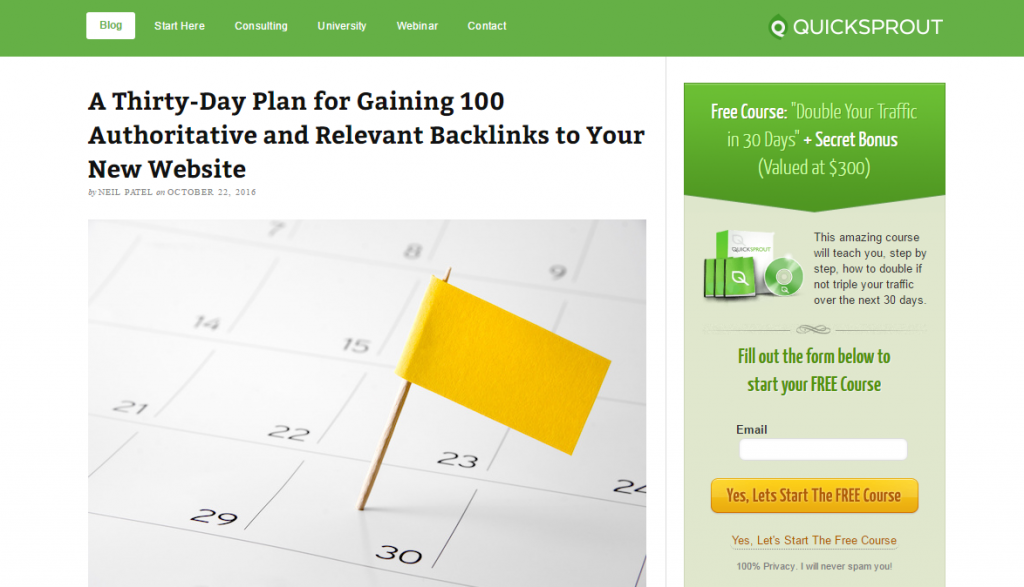 The blog itself is simply designed. Left column for the content he personally writes and the sidebar on the right, which immediately grabs everyone's attention.
Let's focus on that.
The email opt-in offer is enticing; offering a "Free Course" "Valued at $300".
The key is the highly targeted offer promising to "Double website traffic in 30 days".
The good thing about this sidebar lead generation tool is, as opposed to the previous popups, this one is not obtrusive or interruptive. It just sits there and doesn't scroll down with the page.
3. Missed The Sidebar? Here's Another One (or Two)

On the Main Blog's Home Page, right after the preview snippet of the most recent post, two more lead generation tools are casually placed.
Take a look…
There's that little Subscribe button on the right and the 'Analyze' one on the left, which is pretty much the same as what's shown on the homepage…
… except it doesn't require Google Analytics data.
Instead, it straight up asks for your website's URL and… well hey, let me just show you.
I entered a random website that obviously needs a lot of work and this is what happened after clicking "Analyze"…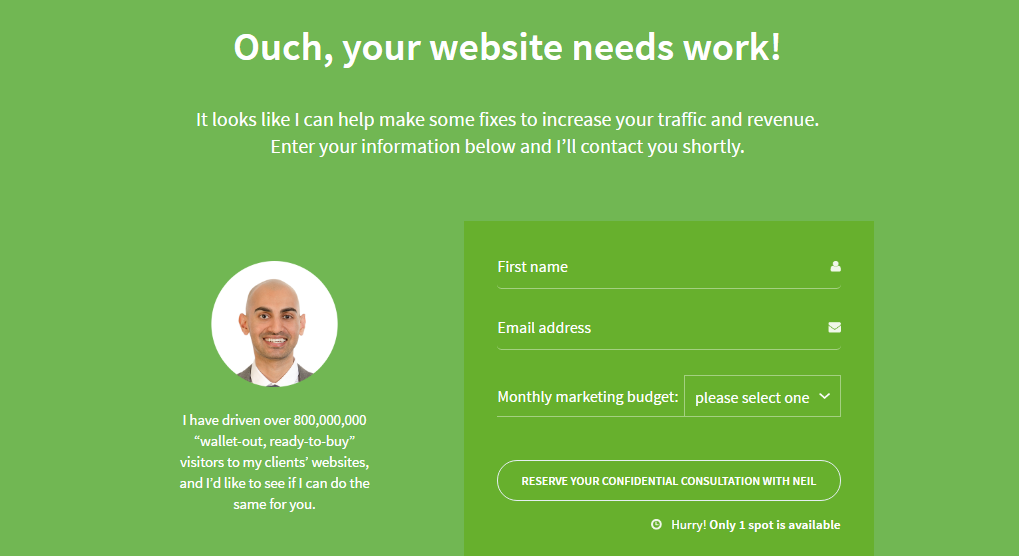 See the note at the bottom of the form? It says "Hurry! Only 1 spot is available".
This creates a sense of scarcity and motivates people to act immediately (it's a very powerful instinct that's hard to resist).
Three important things to note about this "Analyze Your Website" tool:
1. People who use this tool most likely have a need for an expert to step in and help, which makes them most likely to sign up for a consultation with Neil Patel on the next page.
2. The page suggests work needs to be done on the prospect's website, and thus some information is needed to secure a consultation with Neil Patel.
3. Filling in the form and submitting it effectively turns each visitor into a Hot Lead!
Compared to simply signing up with an email address to get a free course, this funnel does all the weeding necessary to identify the Hot Leads AND reveals the size of their marketing budget…
That's a key piece of information for a consultant looking to close a new client as Neil is here.
4. Here's Another Lead Gen Element…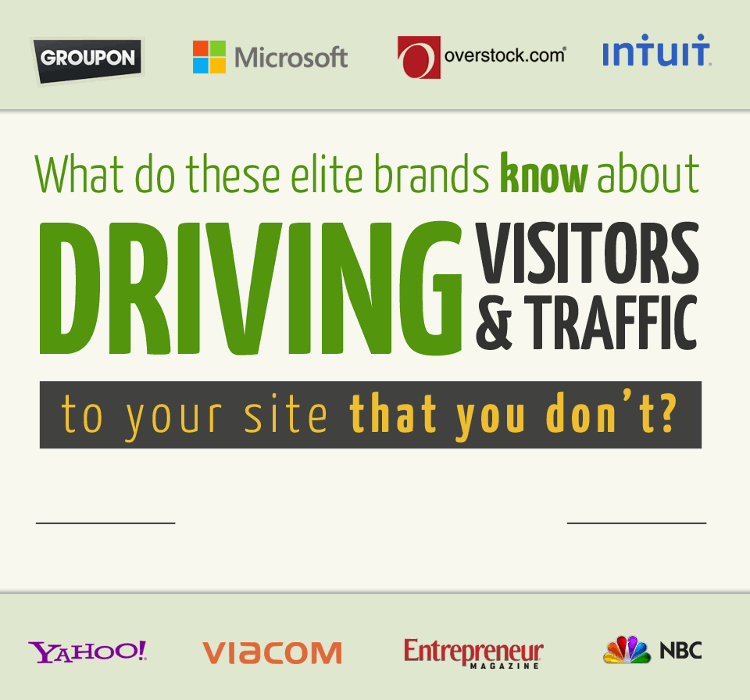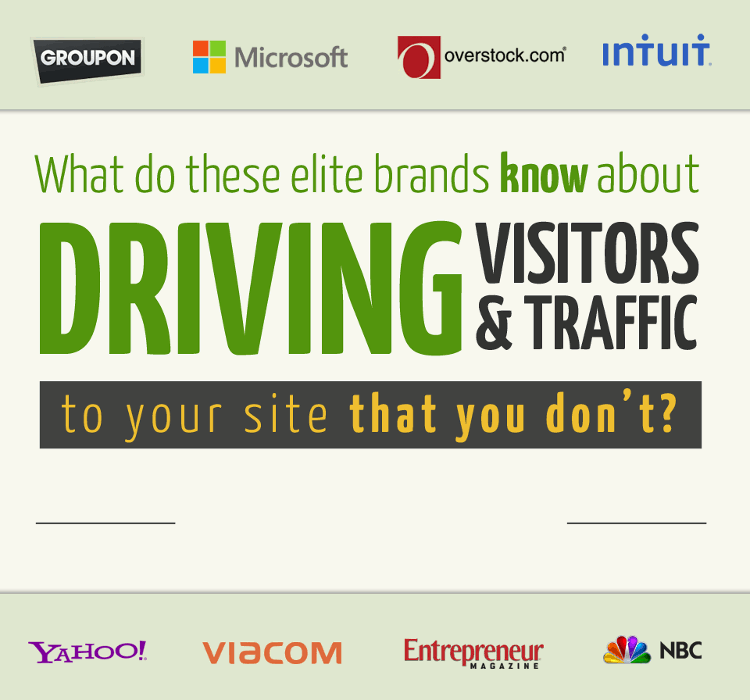 This one directly appears after the second post's preview. When clicked it leads to this page: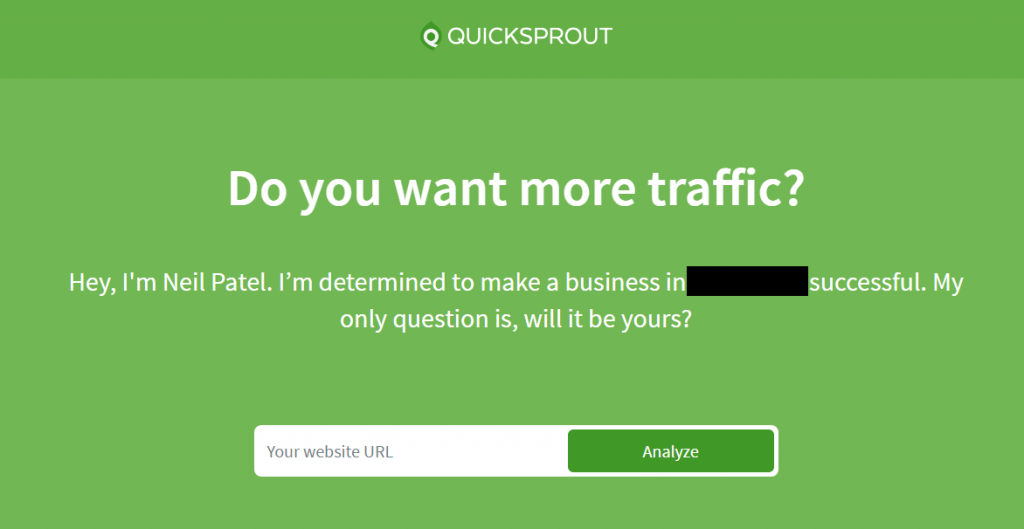 And as you might already have guessed, after clicking the "Analyze" button it redirects to the page where people can book a consultation with Neil Patel!
5. I Nearly Missed This Little Piece Of Hollywood Theater…
As a side note, it was at this point I realized entering the URL of your website and having the tool analyze it doesn't actually DO anything.
Here's how it looks after clicking "Analyze":

I then used a different computer and visited the reservation page directly without inputting a website and it still displayed the same thing, saying "Ouch, your website needs work!"
It's a little bit of Hollywood.
There's really no analyzing going on – but if feels like there is.
6. Explosive Secrets About To Be Revealed!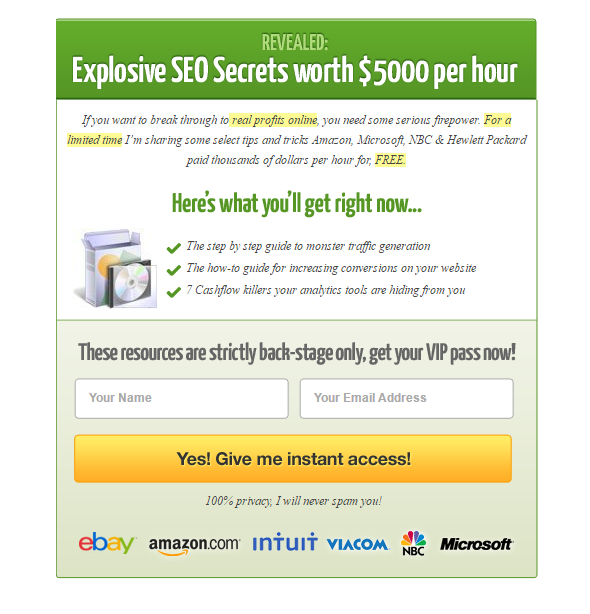 At the end of each article, just before the comments section you'll currently see this Lead Generation element.
Compared to the other Lead Generation tactics on Quick Sprout, this one has more information than usual, which explains and highlights the benefits of signing up to the blog's newsletter.
The rationale behind this?
Someone who reaches the end of an article is much more likely to be the kind of prospect who reads more in-depth, so an opt-in that contains more in depth information is suitable targeting for these visitors.
7. Here's Another Magic: Exit Intent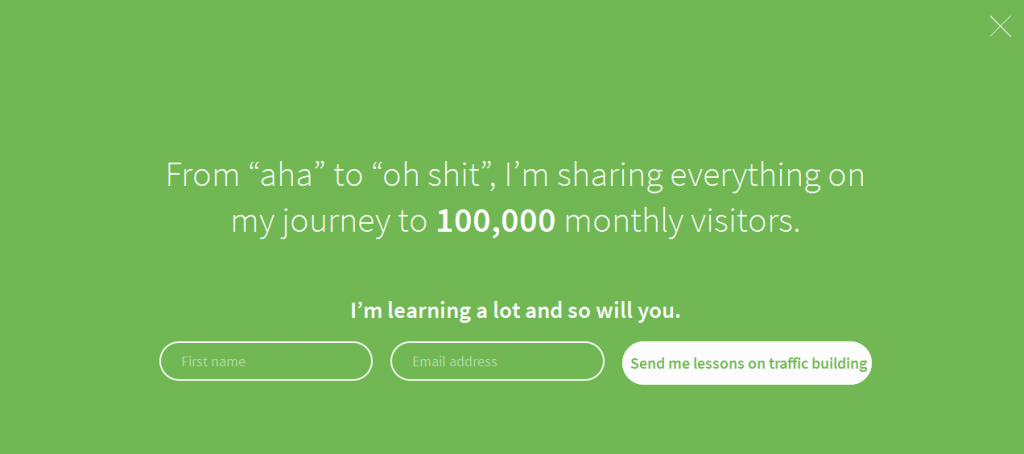 Basically, there's a script running on every page that figures out the visitor's actions, especially if there's an "intent to close" the page
In which case, once an exit intent is determined, one last ditch effort to capture the visitor's data is implemented in the form of popups.
The screenshot above was taken right before my mouse cursor arrived on the close tab button.
You can try it yourself using a different browser (clear your cache first just so it doesn't know if you've visited the site already or not).
Visit an article and try scrolling down a bit, then move your cursor to close the browser tab you have and this should slide to full-screen.
In return for opting in, you get to see how Patel built a website that generates 100,000 monthly visitors.
So Patel is using an incredibly enticing piece of information to capture the email addresses of people who are already leaving… increasing the value of a visitor to his blog.
After closing this popup which detected exit intent, another one appears which uses Hello Bar.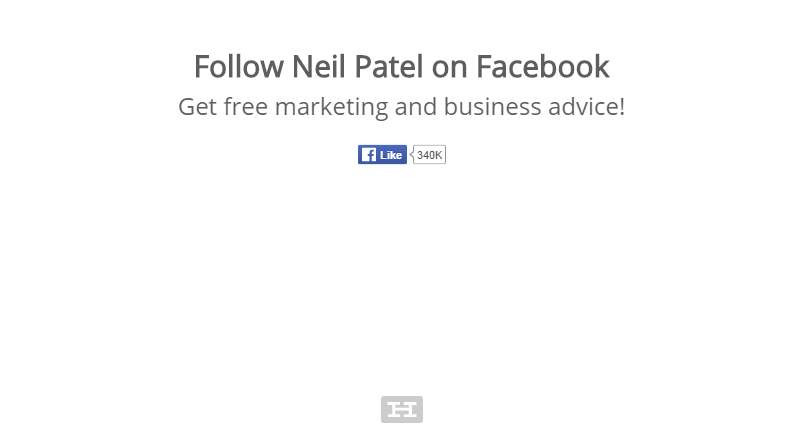 This is how the pop up appears to first time visitors. Two full-screen popups.
Patel has over 300,000 fans on Facebook which suggests this strategy has some merit.
The blog comes into full view after closing the second popup, and this is where the real fun begins.
8. Popups In The Comments Section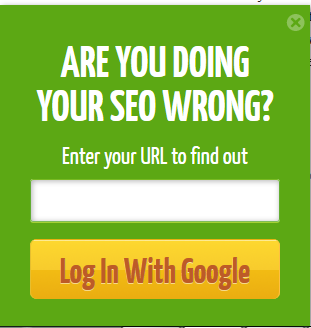 After each article, once you've scrolled down to the comment section, another localized popup will appear on the lower left corner, which, just as with the homepage, asks for a website URL and Google Analytics data in exchange for a custom SEO report.
8x Lead Generation Tools…?! WOW!
You read that right.
Overall, there are 8 lead generation techniques Neil Patel uses on Quick Sprout.
Each one of them is unique to its own spaces and how it attracts people to give him their email address.
Be careful though…
This type of aggressive onsite Lead Generation will not work if you do not first provide enough value to your readers to be worth it.
So, if you want the to emulate Quick Sprout's methods, you must provide truly valuable content first.
i.e. If you want a visitor to you blog to share their email address with you, then you'll first have to demonstrate you'll give them genuine value by sharing tips, resources and advice that are of genuine benefit to them.
What to use?
There are a variety of software for creating pop-ups, landing pages and opt-in forms to generate leads. At Munchweb I use Wishloop as it has the best feature set for the price, is very easy to use, and it's in-built split testing is great.
Happy Lead Generating!