Brazen Careerist Summary
Chapters, PDF & Review of Penelope Trunk's Book
Brazen Careerist: The New Rules for Success
Author: Penelope Trunk
Click Here to Get the PDF Summary of This Book & Many More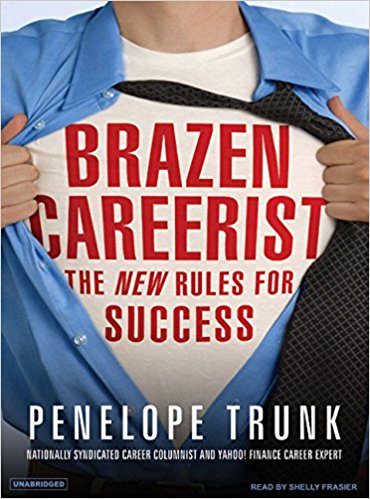 Assume that everything you write via e-mail will appear in the business section of the newspaper.

Making the shift from worker to manager
Focus on people, not tasks. The job of the manager is to get the best work from the people you manage. Ideally, you show people how to see themselves differently so that they are able to produce at a higher level than they ever imagined.
Make a quick transition. Delegating your old job should take three days. If you died today, your job would be delegated in a couple of days. Plus, you have to let go and stop caring about things that no longer matter.
Remember to manage up. You can only impress your boss with your management skill if you are accomplishing things she cares about. Set measurable goals for yourself and let people know that you're meeting them.
Listen more than you talk. Start with a listening tour to find out what matters to people. Only then can you set goals for yourself.
Star strategies allow you to be highly effective, yet highly productive at the same time, so you can fulfill your potential at work and in your personal life. Yes, stars have time for both.
Office politics isn't about jockeying for power, it's about hobnobbing for projects–getting the best opportunities to learn and grow–the best projects, training, and assignments to build skills and market value.
Exercises:
Make a list of skills and knowledge you want to accumulate in the next two years. Ask your boss which ones she can help with. Then ask which projects or teams can help you acquire the skills that your boss can't help with.
Would you go to work in a Hawaiian shirt? Your desk is as much a part of your image as your clothes. Clean it up.
Typecast yourself. Being a generalist means good at nothing and headed for long-term unemployment. You get to the top by being the best, and you can't be the best at everything.
5 years after business school, only 60% of women are working outside the home.
A study of HBS grads showed that people who went into a profession they loved ended up making more money than people who went into a profession for money.
How many more investment bankers need to show up in court before people stop incriminating themselves in writing?
Click Here to Get a Free PDF with 40+ Business & Marketing Book Summaries
This work is licensed under a Creative Commons Attribution-Share Alike 3.0 Unported License.