10 Simple Secrets of the World's Greatest Communicators Summary
Chapters, PDF & Review Carmine Gallo's Book
10 Simple Secrets of the World's Greatest Communicators
Author: Carmine Gallo
Click Here to Get the PDF Summary of This Book & Many More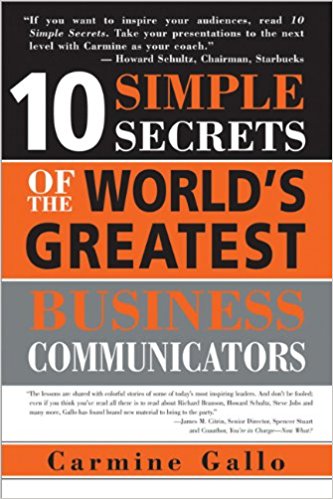 The types of speakers
C Speakers: Do No Harm

B Speakers: Make People Care

A Speakers: Change the way they see the world
Secret 1: Passion
Figure out what you're truly passionate about.

It's usually not about the widget, but the great things the widget will do for your customers.
Secret 2: Inspiration
Paint a picture of a world made better by your product, service, company, or cause:

Kathy Sierra's corollary: Paint a picture of how your users can use your product or service to make their world better.

Sell the benefit (a picture of a world that does not yet exist…but could)
e.g "The Internet is changing the way we live, work, play, and learn."
"Do you want to sell sugar or water your whole life, or do you want to save the world."
"We create a sense of community–the third place between work and home."
Secret 3: Preparation
Great communicators prepare and rehearse. Steve Jobs used to rehearse his presentations for days.
Secret 4: Know your audience
What does the audience need to know?

Why should they care?

What action do I want them to take?
Secret 5: Start strong & end strong
Grab their attention IMMEDIATELY.
e.g "Salespeople, our Wal-Mart deal is going to make this the best year in company history."
People always remember how you start and how you end.
Secret 6: Clarity & make your message easy to follow
Cut through the jargon in your language.

Tell stories

Use examples, facts, figures, analogies, and metaphors

Flag key points
e.g "If you're going to remember anything from this presentation, remember this."
Secret 7: Brevity: keep it short
At most, 15-18 minutes

Use short words

Use short paragraphs

Cut ruthlessly
Secret 8: Say it with style
Vary tone

Vary speed

Pause for impact

Punch keywords
Secret 9: Wear it well and command presence
Convey authority, confidence, and control (e.g. Larry Ellison's body language)

Good posture

Eye contact

Open posture

Hand gestures

Dress the part
Dress well: "Leaders dress a little better than everybody else."
Dress appropriately for the culture–e.g. Steve Jobs and his turtleneck
Secret 10: Reinvent yourself
Bring up something new- show that you are learning

Be like Madonna!
Click Here to Get a Free PDF with 40+ Business & Marketing Book Summaries
This work is licensed under a Creative Commons Attribution-Share Alike 3.0 Unported License.