Hey Fellow Warrior,
Chris Munch here and I have an important question:
"What If Your Suddenly Lost Everything You've Worked So Hard To Gain Online?"


Not too long ago, I'd just finished working several months, pain-staking 12 hour days, to build my business to a place where I could finally enjoy a decent income.
Life was good, I was proud of what I'd accomplished, and thought I was sitting pretty...


Until this happened:

I Got Hacked... Penalized By Google And Lost An Estimated $22,192!


Can you imagine waking up one morning, checking your stats only to realize you'd lost virtually ALL your traffic and site income?
I scrambled to find the best professional SEOs I knew to help me identify the cause... but they came up with NOTHING!
I reached out and had to hire an expensive team of developers, until I eventually found one who specialized in hack repair and prevention...
And I finally discovered why my income had been UTTERLY DESTROYED.

"The Little Blue Pill That Wrecked My Income..."


A hacker had broken into my site's system files and inserted deeply hidden spam links all over my pages promoting a VIAGRA supplement...
… And I had literally NO IDEA!
(I found out later that most people never do until it's far too late…)
These links weren't visible to web browsers, so you couldn't see them, but the Google Spiders found them and banned me for 6 months.
The site never recovered, but I'd learned a valuable (and expensive) lesson.
Because I hadn't taken the right steps to secure my site (just like the vast majority of site owners don't), I was an open target for the thousands of hackers who prey on websites every single day.

"How A Hacker Can Ruin YOUR Day"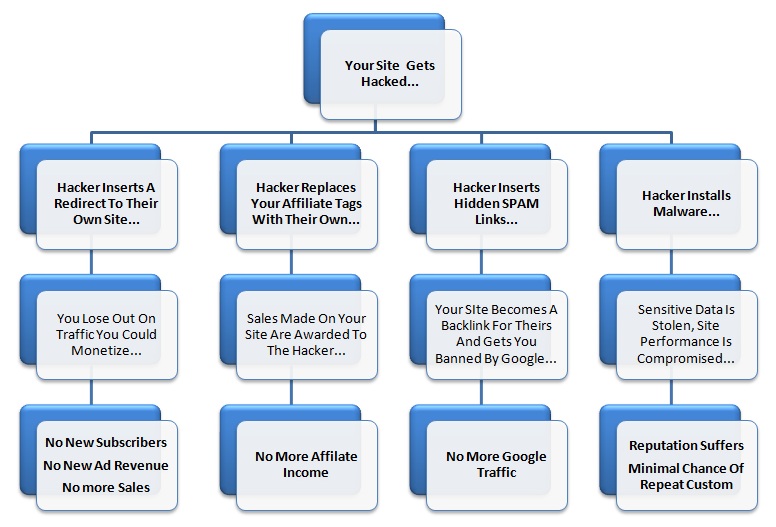 That's just a few of the number of ways a malicious hacker can break into your site and leech off of your efforts, sabotaging everything you've worked so hard to achieve…
And they can do all this without you ever finding out… Or at least not until your site disappears from the search engines for no apparent reason!
Hackers use automated systems to hunt down vulnerable websites, and when they see an opportunity, they attack in full force.
And with more and more people being attracted to IM every single day... their opportunities are endless.

"My Stupid $22,000 Mistake..."


I wanted to ensure this never happened to me again. So I asked the developer what steps I could have taken to prevent it. He laid them all out in front of me…
And I was left with one final question:
"It's really that simple?" I asked.
"Yep..." he said.
If I'd known how easy it was to protect myself from these vicious attacks, I could've spent just a couple hours securing my sites... or better yet, hired a much cheaper developer to do it for me!
If you haven't taken these same, simple security measures, your site could be hacked any day now, and you could lose everything like I did, rendering all your past efforts null and void.
In Fact… Your Site May Have Already Been Hacked And You Wouldn't Even Know.
"It's A Mistake I NEVER Want You To Make…"


So let me ask you...
Do you want to make your online properties invulnerable to 99%+ of the most dangerous hacks?
Do you want to feel protected at a time when hundreds of thousands are more at risk than ever?
Do you want the exact steps you need to take, that are both quick and easy to implement, for complete peace of mind and long term security?
If You Answered YES...
Then You Need...
SENTRY PIGEON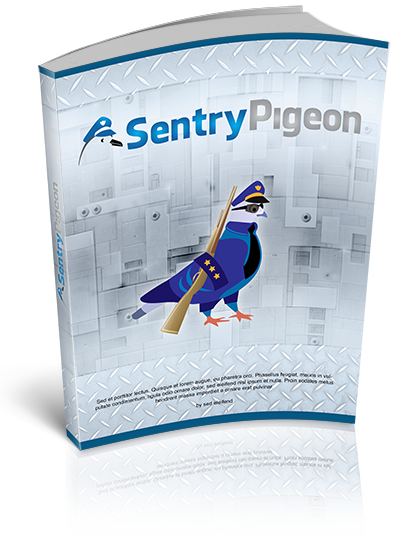 Sentry Pigeon is a High-Caliber Multimedia Package consisting of a Professionally Written Manual PLUS My Video Case Study detailing how I got hacked and lost a whopping $22,000, as well as how you can prevent it happening to you…
Sentry Pigeon was crafted by with the help of a team of high-end developers who specialize in hack prevention…
Here's Just Some of What You'll Get:

The Munch Hack Video Case Study - Reveals How I Was Hacked, What Happened And Why It Happened… Find Out If You're Making The Same Catastrophic Mistakes I Was!
Rarely Discussed Methods Of How Professional Hackers Will Easily Infiltrate Your Unsecured Website And Cause Untold Devastation To Your Business… Once You've Seen This… You'll Be Better Prepared Than The Most Every Other Website Owner Out There!

7 Common Sense Security Measures That Most People Take For Granted… Ignore These And Your Site Is Left Exposed And Ready For A Hacker To Steal Your Earnings… Murder Your Rankings… And Destroy Your Reputation
A Step-By-Step Video Walkthrough On Making Those Vital Security Changes As Easily As Possible… With This Walkthrough… Either You Or Your Freelancer Can Quickly And Easily Protect Your Site From 99%+ Of All Hack Attempts With The Bare Minimum Of Time And Expense… So You Can Go Back To Concentrating Fully On Growing Your Business
How You Can Secure Your Own Computer To Improve The Security Of Your Websites… Most People Think Site And Computer Protection Are Mutually Exclusive… Don't Make The Same Mistake… Discover The Truth And Increase Your Online Security Tenfold…
A Guide To Discovering If And When You've Been Hacked… I Didn't Realize I'd Been Hacked Until It Was Far Too Late… But Armed With This Knowledge… You Can Limit Any Damage To Your Site And Get The Disaster Fixed ASAP…
Hack Insurance' - How To Ensure That If And When You Do Get Hacked… It Won't Be The End Of The World (Or Your Business) And You Can Get The Damage Repaired Before Any Serious And Permanent Harm Is Done
While Sentry Pigeon isn't meant to be the be-all and end-all manual on cyber security... It DOES serve as a comprehensive guide to the actions you can take right now, for the absolute minimum of effort and expense, to make your site more secure than 99% of others out there.
Hackers take the easy, dishonest route to gaining money at our expense…
By making these adjustments, you make it VERY DIFFICULT for a hacker to profit from your hard work…
… They'll simply move on to someone who won't have taken the same security precautions you will have, once you've implemented The Sentry Pigeon Principles and transformed your site into a virtually impenetrable online fortress!
"Sentry Pigeon Is For You, IF…"


You re concerned about Hackers invading your WordPress blog and you want to know the kind of damage a Hacker can do…
You ve already taken measures to secure your site but want the added peace of mind knowing you haven't missed anything out…
You want to avoid the severe Google Punishments dished out to unsecured blogs and losing your valuable search engine traffic…
You want to secure your hard-earned income instead of giving it away to some lazy Hacker&
You want to avoid becoming a victim to the rising plague of site hacks and revenue theft in 2012&
You want the peace of mind knowing your blog, your rankings and your income are all safe behind the walls of an online fortress…
You ve been more concerned with generating and monetizing traffic than you have been with insuring your efforts
Sentry Pigeon is packed full of high-security advice from a team of hack prevention specialists that minimizes the chance of a successful attack on your site as much as possible.
These methods are relevant to 2012, and because new vulnerabilities and exploits are being discovered all the time, it's vitally important your knowledge remains current and up to date..
Other products often give you 'the broad strokes' and leave you to guess what to do next. Very few 'solutions' will actually SHOW you what needs to be done in real time, which would simply leave you guessing and unable to take action.
I've gone to great efforts to make Sentry Pigeon the most in-depth WSO on site security to date, because I want to make sure you don't make the same mistakes I did… and suffer the same consequences.
Many people are concerned that securing their websites will take up too much time, or that it's too complicated… And that's a very dangerous attitude to have in matters like these…
But Fortunately… That's Not True!
I was dumbstruck at how EASY it was to protect my site, and I've designed this product to take ANY headaches and complications out of the equation.
And if you don't want to make these simple adjustments yourself, it's cheap and simple to hire a developer who can make the adjustments for you, saving you even more time but delivering the same benefits and peace of mind.
"Turn Your Site Into A Fortress!"


Once you've downloaded your copy of Sentry Pigeon, you'll be armed with the knowledge you need to arm your site against just about any current hack methods, and protect yourself in advance against future methods as well.
Whether you take a couple of hours to secure your site yourself, or hire an inexpensive developer to do it for you… You'll no longer be an easy target.
You can focus entirely on building and developing your business, generating more traffic and earning bigger commissions and higher revenues WITHOUT the fear that any day now, it could all be stolen away from you.
… So what's the investment?
People pay hundreds and thousands of dollars each year for home insurance, car insurance, health insurance… even pet insurance!
Some people insure the craziest things… But it's surprising how few Internet Marketers insure the rewards of their pain-staking efforts.
I lost an estimated $22,192 because I didn't protect myself… I don't want you to repeat MY mistake… So I'm making this vital information as affordable as possible.
The cost of hiring a hack prevention specialist to fix a hacked site…
$1,000+
The average cost of single person health insurance…
$300+ (per month)
The cost of losing just 1% of what I did…
$220+
And I'm not going to charge you anything close, because I want you to have this information.
To turn your site into a fortress and ward off the evil hacker threat… To secure your hard-earned site rankings and online profit for good… I'm only asking for:




"My Iron-Clad 100% Risk-Free Money Back Guarantee"


This is an issue I'm passionate about and I want you to have literally NO EXCUSE not to invest in the security and well-being of your online business.
That's why I'm offering a 30-Day 100% Money Back Guarantee to you if you pick up your copy of Sentry Pigeon Today.
That way you can download the manual, absorb the videos, take action… and if you don't think this information and the added peace of mind is worth at least TEN TIMES what you paid… I'll Refund You, No Questions Asked!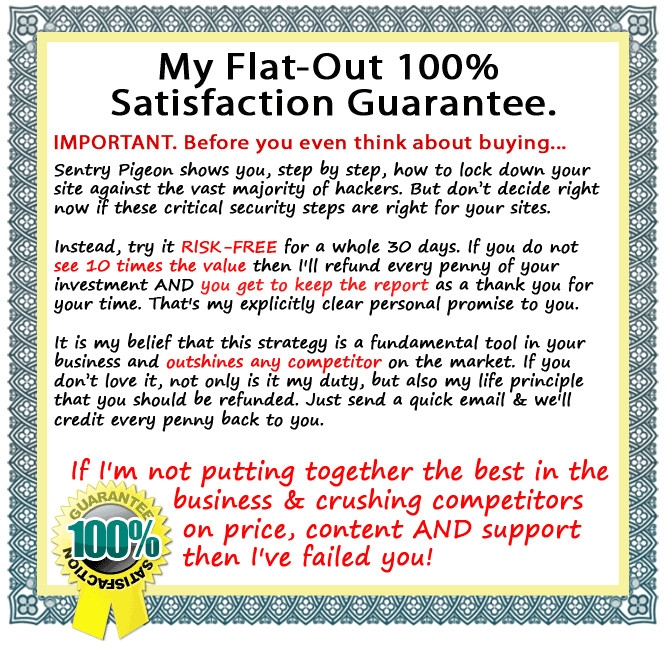 I'm all about providing maximum value and over-delivering at every turn. I know the truth about how important site security really is, but it took me a LOT of time, money and effort to find out.
You don't have to go the same route I did… You can protect yourself today, for a tiny fraction of the cost of what I had to pay.
"Are You Ready To Make A Stand…?"


When you're building an online business, it's usually for the end result of enjoying lots of free time, with enough money to enjoy it.
You work hard to get what you want, and it requires focus and dedication to succeed.
You work hard to get what you want, and it requires focus and dedication to succeed.
The last thing you need is the stress of knowing at any time, an unknown assailant can viciously break into your online assets and steal from you.
What's worse is that when this happens, not only does your income suffer, but so do your rankings, which is incredibly hard, if not impossible, to recover from.
With Sentry Pigeon, you can put your mind at ease, knowing that with just a few small changes, your online properties will be safe and sound against the incredibly vast majority of potential threats, making your site more trouble than it's worth for a hacker to even consider attacking.


"They're Looking For An Easy Way Out… Don't Be The One To Give It To Them!"
Hit The Buy Button Below And Make Your Stand Against The Hacker 'Community' Today - So You Can Get back To Making Some Money!
To Your Continued Success,
Chris Munch



P.S. The Insurance Market is a multi-billion dollar industry for a single reason…
The feeling of being protected against unforeseen events is incredibly comforting.
At the same time, the feeling of losing everything you've worked so hard to gain is one of the very worst feelings you can imagine.
I've been there, and in Sentry Pigeon you'll see exactly how that happened.
But more importantly, you'll discover how you can PREVENT that happening to you… And it's so much simpler than you may have thought.
If you've ever paid an insurance premium for a car, your home, your health or even a pet, you understand the importance of being secure.
If you've ever downloaded an anti-virus software, you know the value of being protected against online threats.
Now apply that same reasoning to your online business.
There are no premiums or ongoing expenses here…
You have my Iron Clad 30-Day 100% Money Back Guarantee to ensure this is a risk-free investment for you…
Hit The Buy Button, See For Yourself, And Turn Your Site Into A Fortress.
P.P.S. Any business consultant worth his salt will tell you the importance of risk mitigation and loss prevention.
I didn't pay attention when I should have and I lost $22,000…
I got banned from Google and lost all my search engine traffic for months… The site never recovered.
Because I didn't take measures to prevent malicious hack attempts, I paid the price.
Imagine waking up one morning and seeing your traffic at ZERO.
You can't afford to make the mistake of thinking 'It Won't Happen To Me'…
Every time I failed to take these measures, my sites eventually got hacked.
Don't just wait for it to happen to you… Make sure it DOESN'T happen to you!
By choosing not to invest in Sentry Pigeon today, you're effectively saying to hackers across the world 'I don't care about being hacked… Come get me!'
That's one more thing a good business consultant would warn you against.
So don't be an easy target… Ensure you have the most up to date knowledge on site security and hack prevention and get your site protected today.
Hit The Buy Button Below And Stop Yourself Becoming Their Next Victim…
To Your Continued Success,
Chris Munch