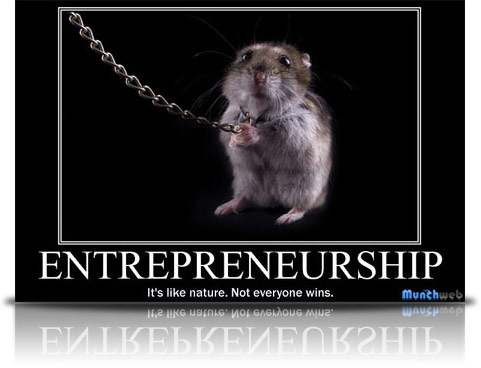 Why New Media is Crushing Old Media (and how to be part of it)
This economic shake-up is purging previously powerful businesses from the arena, and new successful businesses are rapidly emerging to soak up the fertile landscape.
Once resolute and steadfast, traditional media and commerce are being crushed by a new breed of modern internet companies.
Grasping and navigating this rapidly changing terrain is challenging, but from full throttle internet start-ups, to the rags to riches individual, huge successes are pouring in to stake their claim online.
- Facebook was brought to life from an idea of one rebellious student.
- YouTube was built by guys in a garage.
- Demand Media produces thousands of articles and videos everyday utilizing freelance staff worldwide, at a tiny fraction of the cost of existing media.
- Countless individuals are building online shops, blogs, memberships sites, software, online courses, podcasts, videos and eBooks from their own home, and out-competing million (and even billion) dollar companies.
- Worldwide freedom has been granted to thousands of location independant professionals who now travel the globe, while working from a laptop.
- Liberating technology has rescued hours of free time and exploded productivity of people just like you. We've never been able to do so much in such little time.
Cashing In...
New media is empowering the individual and small team businesses! The truth is that new media is more efficient, more profitable, more social and more accessible than the failing old model.
The environment of an online business is often over-complicated with pretentious jargon, misleading claims, and confusing explanations. The reality is much more simple and straight forward. People just use the internet as a means to find and read information, shop, and communicate with others.
While a lot of high-tech tools and complicated jargon might seem intimidating, the reality is that the technology has been built to make things easier. And it is a lot easier! That's why so many new online businesses pop up out of nowhere, without funding, creating unorthodox millionairres.
When the simple bigger picture is presented in a common sense way, and the right tools placed in your hands, taking part in the new media explosion is just a question of creativity and good business sense.
But Be Warned: Those trying to build a strong online business, from income supplementing hobbies to millionaire successes, can only survive and prosper if they put together an excelling and magnetic package that is always evolving. There are no shortcuts, but plenty of opportunity.
Who the hell are you?
I run a successful underground blog network that receives millions of visitors which I built out of nothing with no investment or prior experience. New media is my day job and I've got my hands in a lot of pies, but I still find time to travel regularly and work to my own schedule.
I guess you could consider me one of the children of new media. My name is Chris and I started Munchweb.com to share my experiences.
Join the liberated tribe of new media...
New media is here to shake things up, it is here to challenge the status quo and to revolutionize news, shopping and communication. If you have an online business you need to be at the forefront of this rapidly evolving space.
I'll be challenging you to be a better entrepreneur, to build a more successful online business, and helping you to gain essential new skills, strategies and knowledge to make more money and inspire a hungry audience.
Be a dissident to old media and pretentious new gurus. Join the renegades in the liberated tribe of new media.
Just enter your details in the box below...
Posted by Chris Munch
Munchweb.com